DIANA, a new musical
La Jolla Playhouse
La Jolla, CA 2019
"Many of the most newsworthy players in the life of the princess appear on the stage. Gareth Keegan gets to show off his abs as "James Hewitt" and Bruce Dow engages in his usual antics as trusted butler "Paul Burrell", one of the most colorful persons in her story. Even Nathan Lucrezio ("Andrew Morton") enjoys the good fortune of portraying the icon's biographer."
Toasty Blogger, Table To Stage
And the best song of the show is Diana's helpful assistant's (Bruce Dow) advice that she meet a climaxing scandal by going out for the evening wearing the most defiant "f-u dress".
Welton Jones, San Diego Story
"The biggest laughs arrive in the saucy "Here Comes James Hewitt," a Cartland-inspired reverie featuring Diana's shirtless, hunky new "friend," an Army officer (Gareth Keenan); and "The Dress," a doo-wop-derived ode to Diana's slinky "f— you" outfit (sung by Bruce Dow) that has the queen nearly stammering out the NC-17 refrain. "
James Hebert, San Diego Tribune
"Another haute couture highlight is what's called the "f - - k you dress," the strapless number she wore to a party in London the night Charles announced he cheated on her with Camilla Parker Bowles."
Michael Riedel, NYPost

DR. SILVER, a celebration of life
Musical Stage Co / Outside The March
Toronto, ON, 2018
"That leaves Bruce Dow (James and the Giant Peach, Sextet, Pig, Of a Monstrous Child: A Gaga Musical, Thank You For Being a Friend) whose Timothy Sweetman embodies Dr Silver's subtext of repression as destruction. The protegé besotted with the doctor's son, has the most cataclysmic crisis of faith but also has to fit that oversized emotion into the context of the service. Just as Dow has to keep his muscular voice and presence in check – he slips, or is allowed to cut loose, once and it is spine-tingling – in service of the experience. But when he does crack, it rivals the diva mother Silver Garner for repercussions."
Drew Rowsome, Blogspot
"The songs and performances are impressive, however, especially in the choral numbers. The lead actors – who also include Peter Deiwick in a role I won't spoil – struggle with their underwritten roles, with only Dow engaging our sympathies as the conflicted Timothy."
Glenn Sumi NOW Magazine
"Dow's Timothy is the awkward assistant to Dr. Silver, but after learning his connection to the family during his 'testimony' to the Master Conductor (the godlike figure of the organization) he becomes much more. Dow's presentation of Timothy places huge emotional moments against strong vocal performances, resulting in one of the more interesting arcs within the service."
Isabella Perrone, Broadwayworld.com
"Dow, with his ringing tenor and years of experience, dominates the show."
Paula Citron Ludwig-van.com

TWELFTH NIGHT
Theatre Calgay
Calgary, AB, 2018
"From his initial entrance, there is a hint of pathos in Bruce Dow's 'Malvolio, Olivia's prudish steward. It's undeniably fun to watch as he gets duped into believing Olivia is in love with him, but Dow's masterful haughty performance never fully conceals the man's stifled longings — something few actors go for in playing 'Malvolio'. His final exit in the play is handled beautifully and poignantly."
Louis Hobson, Calgary Herald

THE WIZARD OF OZ
The Grand Theatre
London, ON, 2016
"Bruce Dow, much loved during his stint at Stratford, is a wonderful Cowardly Lion. The Cowardly Lion may be just a big scaredy cat and a sissy but Dow does not camp up the role. In fact, Dow shows how the Lion almost unbeknownst to himself gains in courage as his adventure forces him to take on increasingly daring tasks. He starts out his big song "If I Were King Of The Forest" as if he were imitating Bert Lahr, but after the short introduction he proceeds to make the song completely his own. No fans of Kyle Blair, Bruce Dow, Marcus Nance or George Masswohl will want to miss them in this show."
Christopher Hoile, stagedoor.com
"Broadway and Stratford Festival veteran Bruce Dow is fantastic as the Cowardly Lion, his vocals convincing, strong and hilarious."
London Free Press

TWELFTH NIGHT
National Arts Centre
Ottawa, ON, 2015/16
"But this is also a Twelfth Night that is laugh-out-loud funny – and not just in the usual places, such as Malvolio's discovery of the forged love letter from Olivia. (Though that is a solo turn that Dow pulls off beautifully, oscillating between dignified restraint and Three Stooges face-pulling.)"
J. Kelly Nestruck, The Globe and Mail

SEXTET
Tarragon Theatre
Toronto, ON, 2014
"Sextet is the best new play this year"

"not only the best new play I've seen this year, it also may very well be the best script that Morris Panych has ever written."
"… her pansexual husband Gerard (Bruce Dow, playing every sexual confusion card in the deck brilliantly)"
Richard Ouzounian, Toronto Star

"And the actors understand the heightened, farcical style, especially Atkins (whose harried cellist is like a tightly wound string), Edison (who expertly channels his inner dim bro) and Dow and Northan, who bring lots of pluck to their pronouncments and wily machinations.
In the end, Sextet porduces some beautiful harmonies and richly humane observations.
Glenn Sumi, NOW Magazine

"Featuring a top-notch cast, Panych's production is fast-paced, funny and full of poignatn insights into the human experience."
Theatromania.com

WINNER
– MY THEATRE WORLD BEST ENSEMBLE, 2014

COCK
Studio Theatre
Washington, DC, 2014
"Bruce Dow, in a terrific turn that amplifies the evening's motif of sexual uncertainty."
Peter Marks, Washington Post
"Bruce Dow, a Helen Hayes nominee this year for his hilarious performance in A Funny Thing Happened on the Way to the Forum at Shakespeare Theatre Company, is all seriousness"
Sidney-Chanel Dawkins, DC Metro Theatre Arts
"Dow, fresh off his Helen Hayes nominated performance in Forum hangs up his comedy belt for a more dramatic role and makes 'F' and unwilling participant."
Keith Tittermary, Broadwayworld.com Review
WINNER
– HELEN HAYES AWARD, BEST PRODUCTION PLAY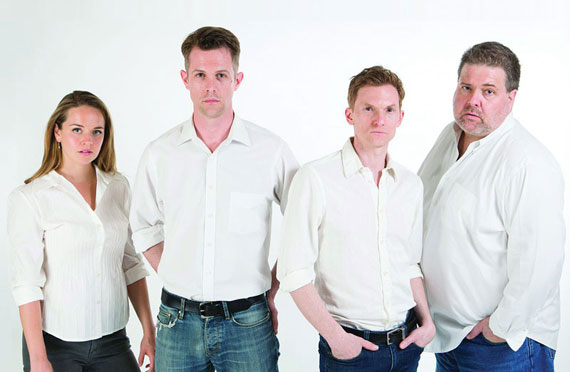 A FUNNY THING HAPPENED ON THE WAY TO THE FORUM
Shakespeare Theatre Company
Washington, DC, 2013
"Every casting choice in this production is impeccable. Dow, as the sly, but ever-so-lovably funny Pseudolus was born for the role! He is engaging, energetic, and funny, and his comedic timing and deadpan snarky asides are delivered with aplomb. Even in moments where things didn't go exactly as planned, he managed to "roll with the punches" and didn't miss a step, making slight adjustments (and improvisations) that had me in wonderment of his quick-witted comebacks!"
DCMetroTheatreArts, Anne Tsang
"And at last we come to Bruce Dow, the comic ringmaster of the whole shebang. What is there to say to praise him that hasn't already been said to praise the overall effect of the show? After all, Pseudolus IS Forum. And Dow carries that burden square on his back, and with pretty light feet, to boot. Seriously, he traverses this stage quicker than some of those dancers.
What Dow brings to Pseudolus is an eager showman's energy, personifying the promise of Prologus at the start – not only will this show do everything in its power to make you laugh, I will. He milks those gags, runs those laps, makes those faces, plots those schemes, and sells those lines and lyrics. The effect could be exhausting, but instead it comes all the way back around to being quite charming. And as long as you're laughing at the jokes, it works."
DCTheatreScene, John Dellaporta
"In a role originated by the famously unpredictable, ad-libbing Zero Mostel, Dow is as outrageous, lying, conniving, quick-thinking, and likeable a rogue as one could ask for. Even when Dow strictly follows the script, his Pseudolus feels delightfully improvised. His presentation of "Comedy Tonight" and "Free" are fine examples of character singing."
ShowbizRadio, Bob Ashby
"Dow's improv skills and sharp comedic timing serves him well as Pseudolus skillfully orchestrates the hilarious madness, which includes everything from mistaken identity to baby dolls flying through the air. By the time he starts channeling the spirit of Maria from The Sound of Music and scolding the "Captain" for not paying attention to his children Liesel, Frederick, and Marta, the audience is roaring."
Theatremania, Keith Loria

PIG
Buddies in Bad Times Theatre
Toronto, 2013
"Bruce Dow, an actor whose spiritual stature grows by cubits, comes before the curtain — yes, there really is a curtain — and tells us that he believes in light. He goes on to name some other things he likes; cellphones are on the list, and DVDs very closely followed by porn and brutality. Finally, and lingeringly, he tells us that – "I believe in death."
National Post, Robert Cushman
"Bruce Dow, playing several roles ranging in pitch from angel to devil, is a marvel. I have seen him be very good before, but in PIG he's transcendent, bafflingly good, moving without a stutter between the brutish and brutal Larry and the delicate, lovelorn Harry. If there's any justice in the world, laurels will be heaped upon his head and awards laid at his feet for this performance – for his posture and accents and affect, for his range, for his supernatural willingness to inhabit all of these characters in all of their complexity or simplicity. Someone should cast a bronze of his (frequently displayed) nuts for this performance and present it as an annual award to the Toronto actor who takes the biggest risk and nails it."
Mooneyontheatre.com, S. Bear Bergman
"Dow's is simply a jaw dropping performance of the highest quality imaginable."
Positive Lite.com, Bob Leahy
"The cast, however, is terrific, with Dunn tough yet surprisingly vulnerable in all of his three roles, Williams brutal, suave and convincing in his three, and Bruce Dow ringing the changes brilliantly between loveable and revoltingly creepy as Harry/Barry/Larry/Garry."
Toronto Star, Robert Crew
"Dow is definitely the more magnetic of the three. He may have lucked out as his characters are a little juicier and out-of-the-box than the others, but even when he saying some of the most terrible things, he is still riveting and a force on stage."
Songs and Cigarettes, Noah Campbell
"In the first scene a character comes out from behind the curtain. He is played by Bruce Dow and in this speech alone he is both mesmerizing and shattering. He quietly, elegantly tells us what he believes in—ordinary things at first and then it gets more unsettling as the speech goes on. He says, "I believe in the finesse of a knife."A line that leaves you gasping, it is so elegant, unexpected, beautiful.
Bruce Dow in his focused, understated way is terrifying as a man who thinks the ultimate thrill would be to kill someone."
Slotkin Letter, Lynn Slotkin
"And in another exciting performance on the Buddies' stage, Bruce Dow plays a series of johns and exes that is alternately funny and terrifying.
With material this hard-hitting, you need a bit of levity, and one of Dow's campy, outrageous figures – an archetype from many gay plays in the past – delivers lots of bons mots.
He also nails the play's best-written scene, at the top of the second act, in which he longs for the good old days of secretive gay life. This simple but heartfelt passage will haunt you after the more shocking imagery has faded from mind."
Now Magazine, Glenn Sumi

OF A MONSTROUS CHILD, the gaga musical
Buddies in Bad Times Theatre
Toronto, 2013
"Dow certainly captures all of that; a performer whose previous stock-in-trade has been ingratiating ebullience, he is here ice-cold, diamond-hard which, given his technical command as both actor and singer, actually makes him more likeable than ever before. For most of his appearances he's in drag; his last, though, is a long spell-binding monologue delivered in the unforgiving, unapologetic nude. It caps a superb, noble performance."
National Post, Robert Cushman
"Bruce Dow is perfect as Lowry, oozing out of a photography booth for his first entrance and expressing ironic horror as he discovers he's dead, courtesy of Wikipedia.
And for sheer dramatic bravura, you won't find anything more bold than Dow's final monologue. An actual nude photo of Bowery is projected upstage and Dow appears in the identical pose, while he speaks movingly, yet wittily, of this particular artist's struggles."
Toronto Star, Richard Ouzounian
"Above all, there's the Lady's strangest antecedent, the late, legendary Australian performance artist Leigh Bowery, brought back to weird and wonderful life by Stratford star Bruce Dow.
The tart-tongued Bowery appears before a naïve young Gaga fan (Tyson James) and proceeds to give him, and us, a lecture on her place in art and culture. Quotes from Gaga, née Stefani Germanotta (Kimberly Persona), are interspersed with comments from her admirers and detractors. Fragments of her songs are mashed up with those by precursors like David Bowie and Radiohead. James's character, meanwhile, gives a voice to the alienated youth who see her as a figure of empowerment.
As Bowery, Dow is beguiling and fearless"
The Grid TO, Martin Morrow
"There's not a weak link in the cast. Dow shows the intelligence and pain beneath Bowery's intentionally gaudy exterior, and Crawford, Spain and Young create quick portraits without resorting to caricature."
Now Magazine, Glenn Sumi
"Hosted by the larger-than-life (and now deceased) Australian performance artist Leigh Bowery (played to perfection by Bruce Dow), the cabaret-style show is centred around one Little Monster (Tyson James) as he follows Bowery on an eccentric journey through the history of popular art and culture."
Theatremania.com, Lauren Gillett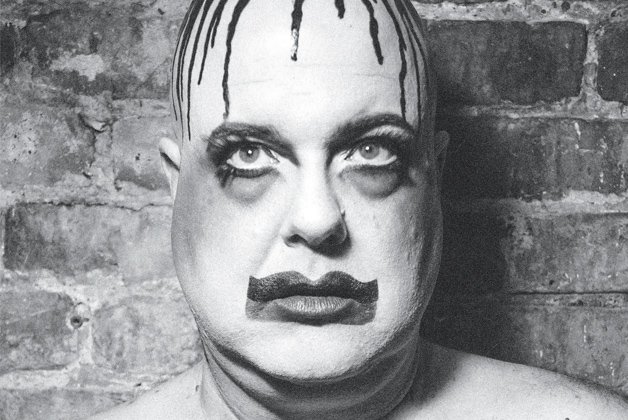 A MIDSUMMER NIGHT'S DREAM
Shakespeare Theatre Company
Washington, D.C. 2012
At Shakespeare Theatre Company, whirlwind of a Bottom spins 'Midsummer' for laughs
"These mechanicals, spurred on by the priceless Bruce Dow, playing a Nick Bottom so self-dramatizing he seems not only to be chewing the scenery but also picking tiny splinters of it out of his gums, provide one of the funniest "Pyramus and Thisbes" I've ever seen. And I've seen plenty: easily two dozen, and maybe even three.

Dow, who like the elegant Topham has a long association with the Stratford Festival in Ontario, manifests his Bottom as an ample slice of the choicest ham. Imagine "Modern Family's" Eric Stonestreet in his lightest loafers, fluttering a red cape and gazing angelically into the distance, and you get an inkling of Dow's marvelous comic countenance. It's the kind of gusty storm of a performance that satisfyingly renews a very weathered play."

Washington Post, Peter Marks


"The success of any "Dream" depends on having great actors in the lead roles and indeed Campbell, Topham, Pedlow, Beitzel, Clark, Myers and Green convey all the questioning, whimsy, humor and seriousness Shakespeare packed into their roles.

But the brilliance of this "Dream" comes primarily from two facts. First, it's a true ensemble production. Every fairy, every Mechanical (Ted van Griethuysen, Bruce Dow, David Graham Jones, Herschel Sparber, Robert Dorfman, Christopher Bloch) provides a stellar performance. Second, it delivers Shakespeare's language perfectly."

The Examiner


"Bruce Dow (Nick Bottom) as the leading Mechanicals, steals the show with such superb theatrical bravado and comedic richness."

dctmetrotheatrearts.com Grace Kim


"…the cast still shines through, with hilarious performances from Bottom (Bruce Dow) and his crew of amateur actors, whose delightfully awful play-within-a-play had the audience in tears."

Mdtheatreguide.com James Miller


"Dow is utterly obnoxious as Bottom, hiding the character's comic ignorance under a layer of diva-like petulance and absurd self-satisfaction. It's brilliantly effective when paired with Ted van Griethuysen's understated but lovely performance as the ambitious Peter Quince, David Graham Jones as Francis Flute, Herschel Sparber as Tom Snout, Robert Dorfman as Snug, and Christopher Bloch as Robin Starveling. Rarely are the Mechanicals so sympathetic, or so inventively dopey."

The Washingtonian, Sophie Gilbert


"None is more the thespian than Nick Bottom, played with such honest hyperbole—Bottom's middle name—that the word ham only begins to tell the tale. He wants to and thinks he should play all the parts. He survives the shock of his vivid dream as the lover of a queen with refreshing malapropism that sound like the truth. Bruce Dow does what Nathan Lane might try to do with the part, if only he could. His squeals, sighs and wild dog eagerness are a comic delight in a show which has many."

The Georgetowner, Gary Tischler


"Ethan McSweeny's production of A Midsummer Night's Dream is a feast for the senses. The Shakespeare Theatre Company has turned McSweeny loose to traffic in the magic of the theatre that weaves its potent spell in Sidney Harman Hall. From the opening scene in the court of Athens – circa late 1940s – to the final tableau's fairy farewell, McSweeny's production evokes fantasy and wonder.

Thanks to a fine group of actors, the production can also boast a hint of danger and a playful irreverence that doesn't take itself too seriously. This is theatre to be enjoyed where "Shakespeare play" means entertainment, not a static piece of literature with footnotes and a stodgy and scholarly essay.

In lesser hands, A Midsummer Night's Dream can be confusing, due to the intersecting plot lines, but in this clearly rendered production, the spectacle and performances clarify the story.

In a production with many delights, director McSweeny's finest achievement was his casting of the mechanicals. Lead by one of Washington DC's grandest acting treasures, Ted van Griethuysen as the actor-manager of the amateur theatre troupe, the mechanicals are an embarrassment of riches – nuanced, bold, fearless comics who work as both a well-oiled machine of timing and hilarity, even as each performer creates a vivid character.

Van Griethuysen is the quiet yet firm leader of the gang, Peter Quince, feeding his inner show business fanatic, while keeping the others in line. He finds a willing and welcome accomplice in the sartorially spiffed out, blustery form of Nick Bottom the weaver, who puts the ham in hambone and leaves his heart and soul on the stage every moment he takes the limelight.

Bottom is brought to life with splendor, and panache by Stratford Festival and Broadway veteran Bruce Dow making his first appearance in an STC production. (I hope it's not his last.) Shakespeare gives Bottom a lion's share of comic material, and Dow has a field day with it, and takes the role to new heights as a grandiloquent performer trapped in the form of a lovable fool."
dctheatrescene.com, Jeffrey Walker

JESUS CHRIST SUPERSTAR
Neil Simon Theatre, Broadway
New York 2012
"The most original work is delivered by Bruce Dow as Herod. His big number — a jarring stylistic break from the rest of the score — is usually the cue for tasteless camping and tacky special effects. Dow turns it into a gripping mini-drama in which Herod vents his contempt at Jesus; his anger has a lady-doth-protest-too-much quality that suggests an underlying fear of Jesus' power."
lighting and sound america.com

"Bruce Dow nails the welcome camp as the vaudevillian Herod "
Newsday, Linda Winer
"Among the highlights, Bruce Dow milks sneering humor and escalating bitterness out of the campy vaudevillian "Herod's Song,"
Hollywood Reporter, David Rooney
"Meanwhile, Bruce Dow shoots for the maximum bandwidth allowable, briefly stealing the show (as he's intended to) as King Herod, whom he transforms into a gelatinous mass of self-loathing."
Vulture, Scott Brown
"And King Herod (Bruce Dow) delivers his taunting song like a male Liza, though it ends with suitable gravitas."
Village Voice, Michael Musto

"Bruce Dow wins the scene-stealing award of the season with his delightfully decadent Herod. Looking like a combination of Susan Hayward as Helen Lawson in "Valley of the Dolls" and Charles Laughton as Nero in "The Sign of the Cross," Dow creates a simpering sensualist who mercilessly mocks Jesus and longs to get back to his skimpily clad chorus boys and girls."
Backstage, David Sheward
"Nolan is, without doubt, a beautiful Jesus to remember (and he's well supported, at various points, by Bruce Dow's perfidious [TREACHEROUS] Herod and Tom Hewitt's Pilate)"
Chicago Tribune, Chris Jones
"Bruce Dow as King Herod (best number of the show)"
Marie-Joelle Parent, MJNY

"Bruce Dow's short routine as King Herod has moved from mere comic relief to a darker, more dramatic place that's equally entertaining."
The Globe and Mail, J. Kelly Nestruck

"Pontius Pilate (Tom Hewitt) adds shades of gray, and King Herod (Bruce Dow) doles the correct dose of comedy."
Metro.us, T. Michelle Murphy
"Among its many pleasures are the thundering title song and "Herod's Song," which gives a jolt to the second act."
North Jersey, Robert Feldberg

JESUS CHRIST SUPERSTAR
La Jolla Playhouse
La Jolla, CA, 2011
"Even King Herod (Bruce Dow), typically dismissable as a preening, queeny jester ("Walk across my swimming pool"), is granted gravitas. His vaudevilley Charleston is an amusingly rousing Vegas lounge act, but because this potentate is desperately seeking salvation, Dow is crushed to realize "You're not the Lord/You're nothing but a fraud!" An ordinarily contemptuous snap is invested with genuine terror."
Bob Verini, Variety
"But "Jesus Christ Superstar" isn't all high seriousness. There's a priceless vaudevillian bit involving King Herod (a game Bruce Dow) who storms the stage with the twisted comic braggadocio of a middle-aged rapper emcee."
Charles McNulty, LA Times
"Bruce Dow, as the Jewish emperor Herod, puts a welcome spin on the jaunty "Herod's Song," which is usually played as a relentless camp turn. Though the number, backed by a chorus line of giddy revelers, initially elicits comic relief as expected, Dow caps it off with a chilling note of doom."
Les Spindle, Back Stage
"it's impossible not to love Bruce Dow's "Gypsy"-meets-the-Scriptures vamping as the extravagantly fabulous and sinfully dismissive King Herod"
James Herbert, San Diego Union-Tribune
"McAnuff's intelligent direction keeps the story grounded in pathos even with Bruce Dow's vaudevillian turn in "Herod's Song." Dow brightens act two's downward trajectory with desperate self-preservation disguised in visceral mockery of the doomed Jesus. His Charleston is a dance of the dead. What could have been played for easy laughs, "Herod's Song" continues the story's emotional complexity."
Thom Vehg, The Espresso
"Bruce Dow's campy Herod and Jeremy Kushnier's timid Pilate are excellent grab shots of history's accidental bit players."
Welton Jones, SanDiego.com
"… and Bruce Dow offers much-welcomed comic relief as the flamboyant Judean King Herod. Dressed in a gloriously bedazzled magenta blazer and toga, Dow looks like the love child of Zero Mostel and Liza Minnelli in "Cabaret." But Dow's more than the usually seen bored, self-indulgent hedonist. He's angry, resentful and venomous toward Jesus, the so-called "king of the Jews."
Pam Kragen, North County Times

JESUS CHRIST SUPERSTAR
Stratford Festival
Stratford, ON, 2012
"Last Saturday, 11th June, Andrew attended the Stratford Shakespeare Festival production of Jesus Christ Superstar, directed by Des McAnuff at the Avon Theatre in Stratford, Ontario.
After watching the production, Andrew said: "I have just seen a fabulous production of Jesus Christ Superstar. It is very probably the best acted performance of the show I have ever seen and fully worthy of the fantastic reviews it has received. I pass my congratulations to Des McAnuff and everyone involved with the production at the Stratford Festival, Ontario."
andrewlloydwebber.com
"Brent Carver (a Tony winner for "Kiss of the Spider Woman") makes a charismatic and curiously sympathetic Pontius Pilate, in a slick purple velvet suit; Marcus Nance booms with a thrillingly powerful bass baritone as Caiaphas; and Bruce Dow camps it up in admirable style as a preeningly vicious Herod."
Charles Isherwood, New York Times
"The rest of the cast sizzles, with Brent Carver at the top of his considerable game as a Pontius Pilate whose arrogance hides his insecurity. Bruce Dow goes for a dark, satanic Herod, initially offering laughs in his show-stopping act-two Charleston, but then flinging those chuckles in our faces."
"Dow, who turns the potentially cloying "Herod's Song" into a piece of sheer theatrical wormwood, filled with poisonous evil and letting us peek into a nightmare worthy of Tim Burton in a song that lasts just over three minutes."
Richard Ouzounian, Variety / The Toronto Star
"And so on and on, with special mention for Bruce Dow's Herod who, more Roman than the Romans, seems to be playing all the decadent emperors rolled into one; his Jesus-mocking song ("come on, King of the Jews"), stops the show even colder than usual."
Robert Cushman, National Post
"Another favourite actor of mine at Stratford is Bruce Dow who plays Herod in Jesus Christ Superstar. I adore everything Bruce does, but this is a part where he is in his full glory, sharing his extraordinary pleasure as a performer and captivating us with his provocative choices and titillating camp, mixed with a depth of character not usually seen in Herod. He is an immensely talented performer whom I love because of his bold choices and evident enjoyment to be on stage.
He spoke to me about ho he was once compared to an over-the-top Bette Davis by an unappreciative reviewer. he went home and watched all her movies an decided that it was in fact a terrific compliment as he discovered "the girl's got balls". I think Bette Davis' balls were reincarnated in the body of Bruce Dow and if you can get a ticket to this largely sold-out production go and see them in action. Paul Nolan as Jesus and Josh Young as Judas are both brilliant in this demanding musical, negotiating not only tough vocal roles but difficult icons with their characters."

Sonia Norris, Outlooks Magazine
"As for the supporting cast, it is to die for (your sins?). Brent Carver is wrenching as a purple-suited Pontius Pilate, desperately seeking a way to avoid crucifying Christ, before finally acquiescing to his part in a larger plan. A sinister, Adam Lambert-styled Bruce Dow kills it in King Herod's song, complete with a skillfully faked turn at a grand piano, while there are strong, sensationally sung performances from Aaron Walpole's Annas, Lee Siegel's Simon Zealotes and Marcus Nance's basso profundo Caiaphas."
Kelley Nestruck, The Globe and Mail
"And as usual in a Stratford-produced musical, the supporting cast is off the charts. As Herod, Bruce Dow has a gas with his show-stopping Herod's Song, which McAnuff stages as a burlesque act. And Brent Carver gives Pilate a deep sense of inner conflict. When you've got these guys as back-up, you know you're in good shape."
Sara Cole, NOW
"Chilina Kennedy as Mary Magdalene, Brent Carver as Pontius Pilot and Bruce Dow as Herod are all spectacular in delivery of character."
Paula Citron, classical 96.3
"Bruce Dow is not satisfied to simply camp up King Herod. The result is truly sinister."
Robert Reid, The Record
"Bruce Dow drew the comic Herod with a nasty edge — a brilliant juxtaposition of the light music and the sinister character."
JT Jordan, The Independent
"The other considerably notable performance has to go to the newly renamed Bruce Dow Wow! The audience sees Dow for the briefest time at the top of the play and then we do not see him until he emerges as the raucous King Herod to which Jesus must stand before and receive judgment. Bruce Dow Wow … well … wows the audience in this small scene. Completely taking over the stage and almost as soon as he has arrived he leaves offering the audience an indelible impression to which they respond with spontaneous roars and cheers. Bruce Dow Wow knows how to entertain and does so with this fantastic rendition of King Herod!"
Kindah Mardam Bey, pressplus1
"Bruce Dow is a twisted, lascivious Herod more interested in doing the Charleston or playing his sparkly grand piano a la Liberace than in this boring man some call the Christ."
Robyn's Reviews, reviewsbyrobyn.blogspot.com/
"… to complete a vocal quartet rounded out by Bruce Dow's earthy, flamboyant Herod, who bounces through a riotous burlesque number at insane odds with the gravity of Jesus' plight."
Lawrence B Johnson, The Detroit News
"While Bruce Dow clearly aims to delight — and succeeds — in his performance as a decadent dancing Herod"
John Colbourne, Toronto Sun
AND MY FAVOURITE REVIEW FOR JCS —
"Bruce Dow also does what he does, that being bringing you in on one emotion (amusement) and sending you off with something completely different (horror?)."
Ben's Blog, Ben Thomas — Thoughts of a 14-tear-old Festival enthusiast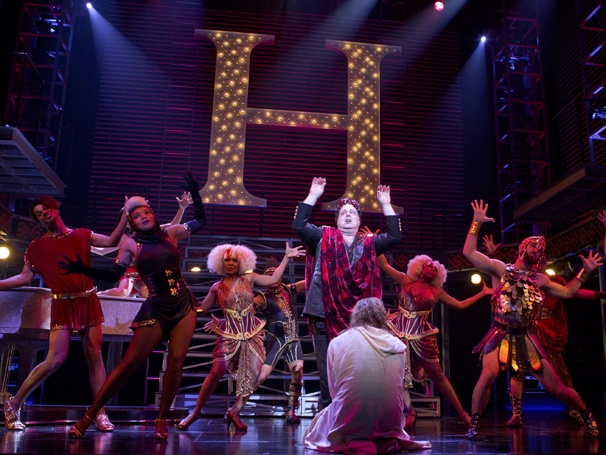 A FUNNY THING HAPPENED ON THE WAY TO THE FORUM
Ed Mirvish Theatre
Toronto 2010-2012
(Starring Sean Cullen and Bruce Dow, alternating in the role of "Pseudolus")
"I saw Bruce Dow, who really was excellent in the part."
Steve Paikin The Agenda
"Dow dazzles with his effortless comedic talent. The laughter began right at the start rippling throughout the show and ending with a standing ovation. A Funny Thing Happened on the Way to the Forum rates 5 stars out of 5."
Michael Englebert / The New AM 740©
"Dow, whose deepened performance I saw on Sunday, better appreciates that all the tomfoolery in Forum will only sustain us if we care about Pseudolus's quest for freedom. [Dow] does have superior chemistry with Sutcliffe's Hysterium which is, ultimately, the much more important relationship here… Dow was the more popular of the Pseudoli."
J. Kelly Nestruck, The Globe and Mail
"Not only is Dow more successful in the role, but he makes everyone in the company seem better as well. Add to that the fact that the pace picks up when Dow's at the helm and you're in a win-win situation. [Dow] takes what's on the page and lifts it effortlessly onto the stage."
Richard Ouzounian, The Toronto Star
"Dow is most definitely the star of the show as the delightfully charming and cheeky Pseudolus. His unwavering energy moves the production along at a steady pace and we root for him all the way."
Theatremania.com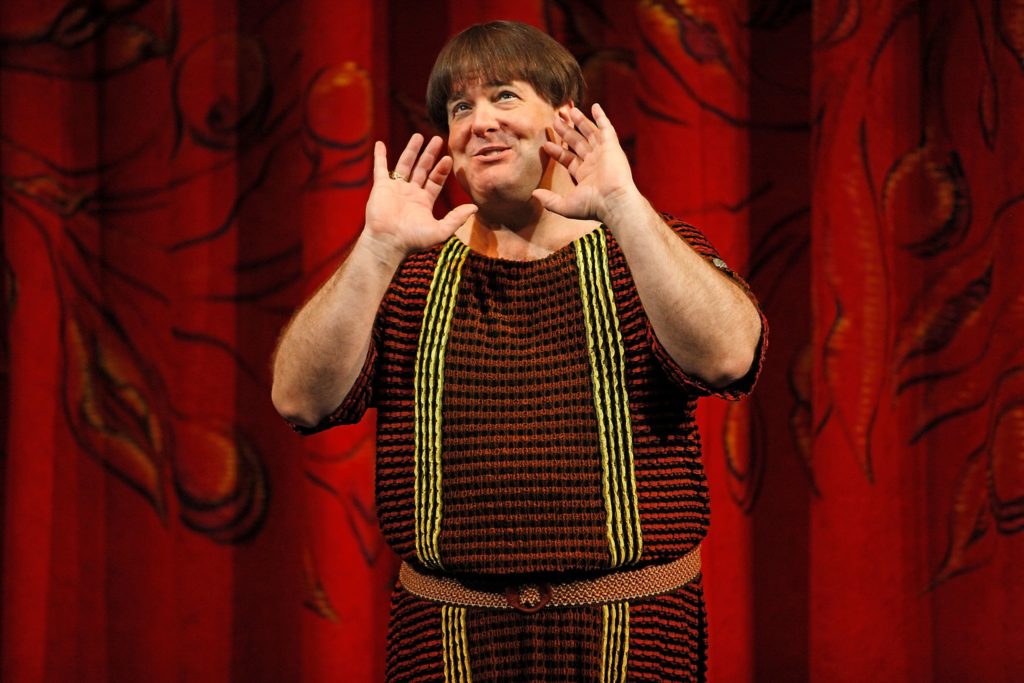 THE TEMPEST, starring Academy Award ® Winner,Christopher Plummer
Stratford Festival
Stratford, ON, 2010
"Mr. McAnuff's "Tempest" does unusually well by the comic roistering of Trinculo (a mincing, dizzy Bruce Dow) and Stephano (Geraint Wyn Davies, with a thick Scottish accent), the permanently sozzled duo who plot with Caliban to overthrown Prospero.
Although it can often be trying in less experienced hands, Shakespearean comedy tends to flourish at Stratford, in part because it is often entrusted to veterans like Mr. Dow and Mr. Davies."
Charles Isherwood, New York Times
"This may very well be the funniest production of "The Tempest," and not just because of the outrageous antics of Bruce Dow's Trinculo (a Jacobean Harvey Fierstein) and Geraint Wyn Davies' Stephano(a Craig Ferguson before his recovery), but because Plummer loves to find the jokes in Shakespeare's text."
Richard Ouzounian, Variety
"McAnuff also merits a big vote of thanks for wringing laughs out of two of Shakespeare's most unfunny comic characters:the drunken butler Stephano and the floundering jester Trinculo. Geraint Wyn Davies offers a Stephano who is a parody of an inebriated Scot, and Bruce Dow is a flouncing delight as Trinculo."
Jamie Portman, Canwest Media
"Bruce Dow brings the house down with his campy take on the jester Trinculo, complemented well by Geraint Wyn Davies as a scheming Scottish-accented Stephano."
J. Kelly Nestruck, The Globe and Mail
"Then there's the "vile confederacy," where a drunken butler and jester from the wrecked ship join up with the changeling Caliban from the island to try to destroy Prospero.
Although they come to a bad end (no spoiler there; anyone could see it coming), Geraint Wyn Davies as a pompous Scot, Bruce Dow as the gayest clown ever and Dion Johnstone as a Caliban who mixes self-hate and self-love together beautifully help rock the house with laughter."
Richard Ouzounian, The Toronto Star
"McAnuff emphasizes the levity in the play. The two fools, Trinculo (Bruce Dow, with limp wrist and fast quip) and Stephano (Geraint Wyn Davies, very Scottish, very drunk) are hilarious."
Pat Donnelly, Montréal Gazette
"Bruce Dow, having a gay old time channeling Dame Edna…"
John Coulbourne Sun Media
"There are several other effective supporting characters, not least of which are the comical duo Trinculo played by Bruce Dow and the perpetually drunk Stephano played by Geraint Wyn Davies."
Donal O'Connor, The Beacon Herald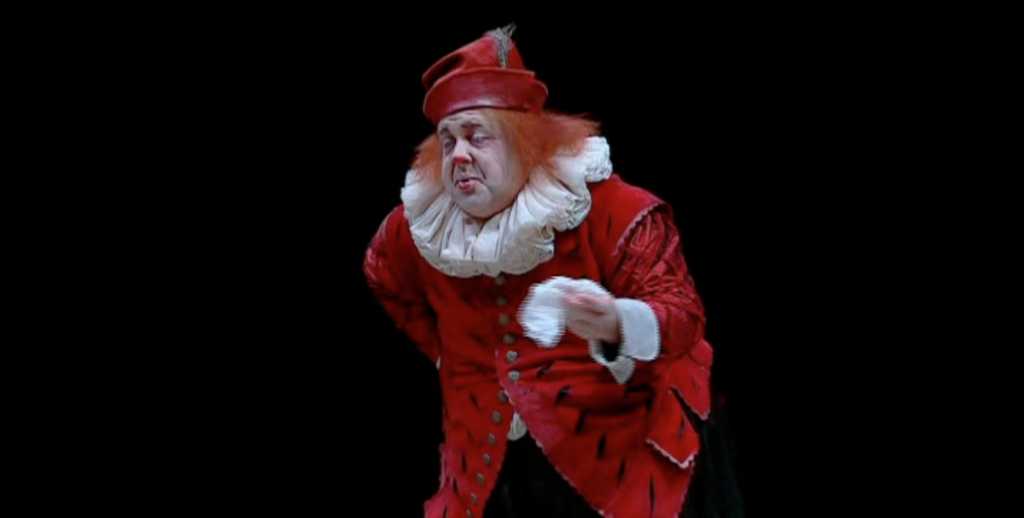 A FUNNY THING HAPPENED ON THE WAY TO THE FORUM
Stratford Festival
Stratford, ON, 2009
"The ever inventive Dow has to be a national treasure. In one of the roles he was surely born to play, he mugs delightfully, kicks up his heels, sings wonderfully and generally takes charge."
Robert Crew, The Toronto Star
"At the center of the musical, which is set in ancient Rome, is a conniving slave named Pseudolus. He's sort of a master of ceremonies for all the plot complications that are to follow. Pseudolus is played by the delightfully cherubic Bruce Dow, who resembles a naughty little boy, the kind of lad who always has his hand caught in the cookie jar."
Michael Kuchwara, Associated Press
"Whoever plays Pseudolus is always the star of "A Funny Thing," and Dow is an irrepressible, one-man riot. But the truth is that top billing here really should be shared with one of Stratford's great veteran actors, Stephen Ouimette, in the hilarious role of Hysterium — a more sober, higher ranking slave in Hero's home who gets conned into helping Pseudolus win the girl."
Laurence B. Johnson — Detroit News
"Bruce Dow is just dandy."
Lynn Slotkin, The Slotkin Letter
"A cast of seasoned comic players, including the genial Bruce Dow (a Canadian Nathan Lane, only sweeter) and the hilarious "Slings and Arrows" star Stephen Ouimette, race from gag to gag."
Chris Jones, Chicago Tribune
"And presiding over these boisterous proceedings is Dow – a comic whirlwind of cunning and lechery – in the pivotal role of that wily slave Pseudolus whose conniving is all pointed to one end – to win his freedom. Yet, it's a surprisingly nuanced characterization, far more human than the in-your face aggressiveness of Zero Mostel who created the role on Broadway."
Jamie Portman, CanWest Media
"Great performances by Bruce Dow and Stephen Ouimette."
James Reaney, London Free Press
"But if kudos are really deserved, it's for the wild collection of Stratford vets and newcomers who imbue these one-dimensional caricatures with enough quirky passion to transcend the play's artificial premise and establish Forum as a guilty pleasure for those who would normally crinkle their noses at such madcap frivolity. And where would we be without Bruce Dow as the fleshy charlatan who dominates the action — often hilariously so — in a role most famously inhabited by the late Zero Mostel."
Joel Rubinoff, The Record
"With gifted singer-comedian Bruce Dow leading the charge as the wily slave, Pseudolus, the vaudevillian tone is set. There's nary a weak comedic link in the cast. Save this one for dessert. Bruce Dow, too, as Pseudolus, owns that wonderful ability to sell a song. Plus he's hysterically funny."
Pat Donnelly, Montréal Gazette
"What truly made this production was the exceptional cast headed by Bruce Dow as Pseudolus. Dow is a truly skilled comedian where every joke is on point and every laugh he has worked hard to provide. Last year in Cabaret, and the previous year in Comedy of Errors, Dow shows his talent, but as one patron of Forum pointed out, Dow gets even better with each new performance he brings to Stratford. Dow helmed the Forum ship incredibly well and is perpetually an asset to the comedy at the Stratford Festival."
Kindah Mardam Bey, A 'n E Vibe
"The cast captures each sequence as if it was their birth right to do so. Dow doesn't need to say a word when he steps on stage before the applause starts. In the opening number, "Comedy Tonight," there's an immediate sense he's internalized the part of Pseudolus that to the point where his animated antics can lead the story in one direction with his co-stars willingly tagging along for the fun."
Steven Berketo, Theatremania.com
"Dow does a superb job of acting his part"
John Colbourn, Sun Media
"Dow has excellent comic delivery"
J. Kelly Nestruck, The Globe and Mail

CABARET
Stratford Festival
Stratford, ON, 2008
"Meanwhile, Dow's casting is inspired. He has the courage and the talent to break all the moulds, creating an all-new character that blends androgeny and sensuality with the haunting asexuality of a spoiled child."
John Coulbourn, Toronto Sun
"Our guide, of course, is the Emcee, radically reinterpreted here by Bruce Dow… Dow is like a silent movie clown on acid: all seeing, all knowing, all leering. At the end of the show, he'll prove to have a heart, but by then it's too late for anyone.
Until then, Dow is superbly confident and delivers his songs with all his old panache, but with a new and frightening edge."
Richard Ouzounian, The Toronto Star
"The production is anchored by Bruce Dow who plays the Emcee as a sad, sinister, prescient, vaudevillian clown on familiar terms with evil."
Robert Reid, Kitchener Waterloo Record
"As the emcee, Dow is different from either Alan Cumming's sexual imp or Joel Grey's dapper mannequin from the film… A curiously gentle master of ceremonies, Dow gives sympathetic looks from the side of the stage."
Kelly Nestruck, The Globe and Mail
"Bruce Dow does the honours here and he presents a corpulent, bisexual master of ceremonies who is acutely attuned to all that's happening around him. Decorated in some outrageous outfits by costume designer David Boechler, Mr. Dow's Emcee is obviously in his element at the Kit Kat Klub where cross-dressing and other sexual deviations/experiments are the norm.And it's an effective bit of staging that has the Emcee and lusty Klub entertainers frozen in place as ghostly witnesses to the unfolding of other lives when they're not actually performing as dancers."
Donal O'Connor, The Beacon Herald
"the wonderful Bruce Dow delivers as the leering, insinuating master of ceremonies, a creature with no illusions about the society which sustains him."
Jamie Portman, Canwest Media
"Sometime in the not-too-distant future, some enterprising soul is going to devise an ingenious method of packaging or bottling the essence of the multi-talented Bruce Dow. Or simply let him loose in a no-holds-barred one-person show.
Until that moment in time, audiences will just have to savour his singing, acting and comic skills utilized to perfection this season in the role of the garish emcee in the Stratford Shakespeare's production of Cabaret.
What Dow brings to the play, in addition to those aforementioned talents, is sheer presence.
The moment the eccentric master of ceremonies at Berlin's decadent Kit Kat Klub appears, the audience catches its first glimpse of a larger-than-life performance unfolding – a characterization encompassing the tumultuous, uneasy and often cheeky (literally) scenarios preceding the frightening global phenomena of the Third Reich.
All the while Dow's mercurial emcee – whether prancing about in boisterous numbers like Money, slyly examining social issues while dishing out the double edged humour of If You Could See Her or simply observing others from the theatrical wings – is the central figure amidst the ruins."
Geoff Dale, London NOW
"The production is anchored by Bruce Dow who plays the Emcee as a sad, sinister, prescient, vaudevillian clown on familiar terms with evil."
Robert Reid, Kitchener/Waterloo Record
"That brings us to Bruce Dow's leering MC. Dow melts before our eyes, suggesting a warm and vulnerable heart, hiding behind a desperate desire to survive.
It is the most fully fleshed MC ever. When Dow stands in his long red coat, doffing his battered top hat with a nod of the head, he is every clown who ever cried when the circus left town.
When he sings I Don't Care Much, your heart will melt, your brain go numb and your eyes water. Brilliant."
Gary Smith, Hamilton Spectator
"Bruce Dow's Emcee may look like and overgrown cherub with a mini-mohawk, but he is definitely in the line of Mendes' pansexual Emcee. Outrageous, vulgar, unrestrained, he makes Joel Grey's interpretation in the film look straight-laced by comparison. His two best moments are in the songs "Two Ladies" which he hilariously acts out by himself, for too short a time, with two small rag dolls and the song "I Don't Care Much", where we finally get to hear the real strength of his voice and feel the character's underlying bitterness."
Christopher Hoile, Stage Door
"Don't go into this Stratford production (and I'm talking in particular to fans of the film) with any preconceptions. Except for emcee Bruce Dow's girth, this version is leaner and meaner. The brilliant Dow, who watches over the characters' every move, has a large, menacing presence."
Susan G. Cole, NOW Magazine
"….how could we forget the Emcee? Bruce Dow, as the Emcee was so delightful. Sorry Joel Gray, I think this role was actually made for the likes of Dow. In his ninth season at Stratford, Dow has become to Stratford what Mickey is to Disneyland; why would you go to Disneyland and not see Mickey, conversely, who would dream of going to Stratford and not see Bruce Dow? Possibly, this is Dow's greatest performance to date, and well worth the cost of the ticket stub alone."
Kindah Mardam Bey, anevibe.com
"Dehnert's take is that the Emcee, played magnificently by Bruce Dow, is the conscience of Germany. His woeful expression as he watches every scene telegraphs the horrors to come. Trish Lindström's Sally Bowles is a full-throttle portrait of a woman with no moral compass, beautifully balanced by Sean Arbuckle's passive but honourable Clifford Bradshaw. Nora McLellan and Frank Moore are wonderfully poignant as the elderly mismatched lovers, while Cory O'Brien is perfect as a New World Order Nazi."
Paula Citron, Classical963fm.com
"Bruce Dow is perfectly cast for this Emcee: an oversized baby, a monster of polymorphous perversity. Two numbers center on the Emcee: "Two Ladies" and the untitled number at the top of Act II, and in both the Emcee steals our hearts – I can't believe I'm writing that phrase – with his unabashed neediness. How could you hate this creature, the production seems to be saying? He's harmless? He's hopeless, yes; he's ridiculous, yes; but he's harmless! And now all his beautiful, hopeless, ridiculous but harmless friends are burnt to dust . . . Dow is a phenomenal performer, and with a lesser actor I could see this interpretation not working at all, but he makes this disturbing and strangely adorable Emcee utterly believable as a character, and utterly central to the play (as, in this interpretation, it is)."
noah millman, theamericanscene.com
Bruce accomplished something I didn't think possible: he made the character of Emcee in Cabaret more sexually twisted, bizarre and emotionally dazzling than even the great Alan Cumming.
Randall Shirley — Outlooks.ca
Christopher Plummer generates star power in Stratford's 'Caesar and Cleopatra'
By MICHAEL KUCHWARA
STRATFORD, Ontario (AP) _ Is there anything Christopher Plummer can't do?
Maybe walk on water, although I wouldn't be surprised to see the man skimming the surface of the Avon River that snakes through the heart of this bucolic town housing the largest repertory theater in North America.
Plummer is the obvious reason the Stratford Shakespeare Festival has expanded its theatrical horizons this season to include "Caesar and Cleopatra" by George Bernard Shaw, a playwright primarily showcased at that other picturesque temple of Canadian theater, the Shaw Festival in Niagara-on-the-Lake.
Long a star in the Stratford firmament, the Toronto-born, Quebec-raised Plummer has an innate rapport with the spoken word. He makes acting look and sound easy, the most natural thing in the world to stand center stage and declaim. Whether playing Clarence Darrow in "Inherit the Wind" on Broadway or Shaw's craggy, world-weary ruler of the Roman Empire, there is an accessibility to his performances that is enormously appealing.
"Caesar and Cleopatra" (in rep through Nov. 8) is a peculiar and, even for Shaw, a windy play. It's one that doesn't quite rank with such top-drawer efforts as "Major Barbara," "Pygmalion," "Man and Superman" and "Heartbreak House."
Fortunately, director Des McAnuff has nicely trimmed this revival and given it a glitzy, Technicolor production. You kind of expect Joan Collins and Jack Hawkins from Howard Hawks' "Land of the Pharaohs" to be floating around somewhere — only with a little more intellectual heft. The vivid costumes are by Paul Tazewell and Robert Brill did the majestic, gold-encrusted settings, often dappled in shadows by Robert Thomson's evocative lighting.
McAnuff wisely keeps the focus primarily on the combative relationship between Caesar and the young queen of Egypt. Plummer's Caesar is a savvy old coot, a man cognizant of his advancing years yet filled with a paternal interest in the neophyte Egyptian ruler. It's the old story of practical teacher and impetuous pupil.
Much has been made of the similarities between "Caesar and Cleopatra" and "Pygmalion," in which Professor Henry Higgins transforms a Cockney flower girl into a genteel woman. "Pygmalion," of course, later gave birth to "My Fair Lady" while "Caesar and Cleopatra" wasn't as lucky in its musical-theater reincarnation. It was turned into the wildly unsuccessful "Her First Roman," starring Richard Kiley and Leslie Uggams, that had a two-week Broadway run in 1968.
After watching "Caesar and Cleopatra," you can see why the musical bombed. The play offers few opportunities for the characters to sing, although Nikki M. James probably could handle any song thrown at her. James, who was Dorothy in McAnuff's revival of "The Wiz" at California's La Jolla Playhouse, manages to hold her own against the formidable Plummer.
And she's a sterling example of how acting in rep can help a performer gain confidence. The actress seemed vocally pallid earlier this summer at Stratford in McAnuff's production of "Romeo and Juliet." No such problem here. Her delivery is robust and full of a spitfire.
With such intense focus on the two leads, it's hard for any of the supporting players to make much of an impression. The one exception is Steven Sutcliffe as Britannus, Caesar's very proper, incongruously British secretary. Shaw, with malicious glee, takes aim at every English stereotype, and Sutcliffe (loved his carefully coifed, Oscar Wilde hairdo) encompasses them with unerring and hilarious accuracy.
One of the problems with "Caesar and Cleopatra" is that its best scene — the first meeting of the title characters before a moonlit Sphinx — comes right at the top of the play. There's a playfulness to their dialogue, an almost banter on Caesar's part and a childlike inquisitiveness from Cleopatra.
Nothing else in the evening quite matches their initial interaction. The play gets bogged down in Egyptian and Roman politics as well as chatter about the moral and practical obligations of being a ruler. Yet with Plummer's golden tones detailing Shaw's thoughts on these subjects, the discussion becomes an invigorating theatrical sermon by an extraordinary actor.
"Caesar and Cleopatra" wasn't the only mid-August opening at the Stratford Shakespeare Festival, which began its season back in April and included more than a dozen productions. The other two new ones: an adaptation of "Moby-Dick" by Morris Panych and the world premiere of "Palmer Park" by Joanna McClelland Glass.
It may have been foolhardy for Panych to try and compress Herman Melville's gargantuan novel into a nearly two-hour performance piece that is more dance than theater. Make than more movement than dance, performed to swirling, fraught-with-anxiety melodies by Claude Debussy.
Melville's words are kept to a minimum, almost incomprehensible voiceover snippets of observation by Shaun Smyth, who portrays Ishmael, the novel's narrator. Despite the necessary condensation, there are some striking images in the piece, seen at the festival's small, 200-seat Studio Theatre (through Oct. 18).
Panych, one of Canada's most celebrated dramatists, is working here with what is called in the theater program "creative associates": Wendy Gorling for movement and Shaun Amyot for choreography. And, yes, there are some stunning visual moments — particularly one in which Captain Ahab's ship, the Pequod, comes to life, using only a couple of ladders and the flowing white shirts of the company to create its billowing sails.
But despite this inventiveness, the piece remains sketchy, unable to get much beyond these striking pictures. Melville's mammoth tale has been reduced to an outline, the barest of summaries on which some theatrical images have been hung.
Theatricality is what's missing in Stratford's third August production, Glass' "Palmer Park" (playing through Sept. 21). It's a tale of white flight from an upper middle-class section of Detroit known as Palmer Park after the riots of 1967.
At times, "Palmer Park" has the earnestness of a classroom lecture. For much of the evening, its story is told directly to the audience. The large cast — 10 actors play 13 roles — plow their way through facts and figures about the city and its history as well as rattle off significant cultural and political highlights of the era.
What gradually emerges is the story of two married couples — one white, the other black — who refuse to flee and instead stay to fight for their neighborhood and the school their daughters attend. Eventually, their efforts are overwhelmed.
There's a poignant quality to "Palmer Park" that crystalizes in the second half of the evening, when Glass finally allows several of her characters to become people and not just reciters of their own resumes. Paradise has been lost and the dreams of integration die with a mournful realization that life will never be the same.
So much information has been packed into Glass' play that it is hard for individual actors to make much of an impression, which is unusual for Stratford. One of the joys of the festival is seeing its large contingent of actors in a variety of roles, both large and supporting.
Stratford's long season ends in November, so there is time to catch some outstanding performances. Check the theater's performance schedule, but among the portraits still on stage to be savored are:
—Martha Henry as a fierce, defiant Hecuba in an affecting version of "The Trojan Women."
—Evan Buliung as a lustily unapologetic Petruchio in "The Taming of the Shrew."
—Stephen Ouimette as the harried father of two eligible daughters in that same "Shrew."
—Geraint Wyn Davies as a most sympathetic Polonius in "Hamlet."
—Bruce Dow as the naughty master of ceremonies in a delightfully decadent "Cabaret."
—Sean Arbuckle as a front-row observer of all that debauchery in "Cabaret."
—Leah Oster as a spirited Marian the librarian in "The Music Man."
Plummer may the big gun at the Stratford Shakespeare Festival this year but he is acting in remarkably good company.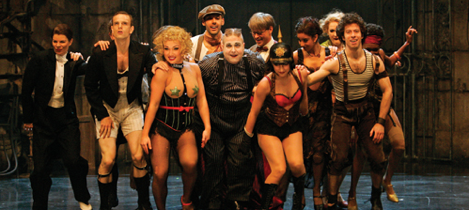 An Ideal Husband
Stratford Festival
Stratford, ON, 2007
"David Snelgrove is … quite perfect as the flippant, dashing Lord Arthur Goring, especially in the wonderful banter he has with the delightful Bruce Dow, as the perfect butler."
Richard Ouzounian, The Toronto Star

The Merchant of Venice
Stratford Festival
Stratford, ON, 2007
"Usually playing a role in a Stratford musical, Bruce Dow demonstrates his flexibility here, dominating his scenes as Solanio, one of Antonio's friends."
Sharon Malvern, The Beacon Herald

The Comedy of Errors
Stratford Festival
Stratford, ON, 2007
"For the record, Bruce Dow is very, very funny as the more hysterical of the two Dromios; Tom McCamus scores points by playing Antipholus of Ephesus with an elusive touch of class and Brigit Wilson works the minor role of the courtesan for all it's worth."
Richard Ouzounian, The Toronto Star
"The actors are sufficiently funny, especially Bruce Dow and Steve Ross as the twin servants, both named Dromio. Dow and Ross, who also sing, would likely have been at home in vaudeville."
Martin F. Kohn, Detroit Free Press
"It is they who provide much of the comedy, especially the rubber-faced Dromio of Syracuse (Bruce Dow), who really soars in the brilliant improv-like shtick describing the fat woman who thinks he's her husband. Steve Ross makes a very effective twin, such that it really is hard to tell them apart."
Christopher Rawson, Pittsburgh Post-Gazette
"As for the cast, they all appear to be having a great time and happily, their bonhommie occasionally spills over into the audience, thanks to the proven comedic skills of performers like Dow, Ross and McCamus supported by Walter Borden, Chick Reid, Brigit Wilson, Allegra Fulton and a host of others, all backed to the max by the set design of Michael Gianfrancesco and costume designer Dana Osborne."
John Coulbourn, Toronto Sun
"Bruce Dow hams it up with reckless abandon as Dromio of Syracuse"
Colin Hunter, K/W Record
"Only Bruce Dow (Dromio of Syracuse) is in his native environment here, camping it up to the audience and running off on textual tangents such as segue into Gone with the Wind. Steve Ross (Dromio of Ephesus) is to be commended for managing to keep pace. Lawrence Haegert deserves a particular mention for his well-crafted, stoner Balthasar who captured even the director's imagination enough to give him his very own psychedelic exit, complete with go-go dancers and mood lights."
Tanya Gough, playshakespeare.com
"The Dromios, Steve Ross and Bruce Dow, who actually look like twins, are subjected to much physical and verbal abuse as they try to please their masters in this chaotic situation. Both give great comic value to their roles. Bruce Dow throws himself into slapstick mode, especially in a memorable speech about the geographical attributes of the amorous kitchen wench, Luce."
Sharon Malvern, Beacon Herald
"The main advantage of casting Bruce Dow as Dromio of Syracuse and Steve Ross as Dromio of Ephesus is that they look so much alike we do actually become confused about which is which. Both Dow and Ross are very funny."
Christopher Hoile, www.stage-door.org

Oliver!
Stratford Festival
Stratford, ON, 2006
"One of the show's structural problems is that it spends a lot of time near the start with some comic characters we hardly ever see again. However, with Bruce Dow as the lovably outsized Mr. Bumble and Mary Ellen Mahoney as the amusingly shrewish widow Corney, you can hardly complain."
Richard Ouzounian, The Toronto Star
"For those who prefer their talents a little more on the mature side, this production offers plenty of those too, not the least of which is Colm Feore's oddly-WASPish Fagin, Bruce Dow's Mr. Bumble, Mary Ellen Mahoney's Widow Corney and Brad Rudy's glowering Bill Sykes."
John Colbourn, Toronto Sun
"In a strong cast there was no shortage of strong performances. Bruce Dow as Mr. Bumble was no slouch in the vocal department and made the most of a rotund figure."
Bravo!News
"The adults pretty well match them step for step, with Mary Ellen Mahoney and Bruce Dow making avaricious old Widow Corney and her rotund Mr. Bumble delightful comic cartoons."
Gary Smith, Hamilton Spectator
"From Bruce Dow's magnificently portly, perverse Mr. Bumble, the Beadle to Colm Feore's surprisingly sympathetic portrayal of Fagin to the gifted young Tyler Pearse as young Oliver, this is an exceptionally strong cast that brings new life to a musical that has been around the proverbial block a number of times.
The ever-delightful Dow once again uses his powerfully expressive voice on a number of occasions and displays his oft-used comic talents, sliding across the floor on his knees, occasionally adjusting his considerable girth and railing against the law which truly "must be an ass" for assuming that he has any sway over his domineering wife."
Geoff Dale, NOW London
"The broad comedy is handled expertly by Bruce Dow as Mr. Bumble, the Beadle and Mary Ellen Mahoney as Widow Corney with equally funny performances by Brian McKay as the undertaker and Barbara Fulton as his wife."
James Karas, greekpress.ca
"As crass as they are, the love match between Mr. Bumble and and the Widow Corney, Oliver's temporary set of keepers, played by the wonderful Bruce Dow and Mary Ellen Mahoney, is genuine, even if it will only last until they are married, then come apart at the seams just like the high born ladies and gents."
Jeniva Berger, scenechanges.com

South Pacific
Stratford Festival
Stratford, ON, 2006
"There's also some wonderful character comedy from Bruce Dow as the scheming Luther Billis. Dow's natural sunniness turns what could have been a tiresome stereotype into an original delight."
Richard Ouzounian, The Toronto Star
"While Bruce Dow, as the irrepressible Luther Billis, brings perfect comic relief with an added and welcome edge."
Kamal Al-Solaylee, The Globe and Mail
"Among the stand-out performances, look for fine work from Bruce Dow (cast as the opportunistic Luther Billis)"
John Colbourn Toronto Sun
"I've seen this musical described in reputable print as the team's funniest, but I find that baffling. the show's comedy is formulaic. It's a tribute to Bruce Dow that he finds as much in the role of Luther Billis, a Sergeant Bilko with a soft centre, as he does."
Robert Cushman. National Post
"As for the show's comic characters, Bruce Dow shines as Luther Billis, the man always looking for a way to make a buck, and is a real hoot in the finale the troops' Thanksgiving show."
stage-door.org
"Bruce Dow, Canada's answer to Nathan Lane, is a terrific Luther Billis, filling the part with comic wisdom and wonderful warmth."
Gary Smith, Hamilton Spectator
"It doesn't have the exuberance of Oliver nor a genuine scene-stealer (although Bruce Dow comes close) but South Pacific still retains a certain nostalgic mystique that's hard to shake. Like so many other musicals of its ilk, South Pacific revels in its secondary characters with Grace Chan as the boisterous Bloody Mary and the aforementioned Dow (the wheeling dealing Luther Billis) topping the bill. Watch for the delights of character actors (and fine vocalists) like Dow."
Geoff Dale NOW London
Two standout performances come in the form of Luther Billis and Bloody Mary. The actors have crafted these characters in such a way that, even with all of their imperfections, the audience can't help but love them. Bruce Dow plays teddy-bear tough guy Billis, and does a wonderful job evoking a genuine 1950's cheekiness.
Written by Philippa Scowcroft www.lucidforge.com
"The warm melodies from the infamously frigid Richard Rodgers, and Bruce Dow, a hoot as Luther, are high points"
Susan G Cole, NOW Magazine
"Bruce Dow (is) endearingly rambunctious (as) Marine clown Luther Billis."
Jeniva Berger, scenechanges.com

Into the Woods
Stratford Festival
Stratford, ON, 2005
"Most of the cast is excellent, however, with Bruce Dow taking the crown for his complex and emotionally devastating performance as the Baker.
… Dow becomes the focus, providing a new angle on the show."

Richard Ouzounian, Variety


"… while Bruce Dow simply and breathtakingly develops. His is the character who learns and suffers most; the emotional core of this production is his last encounter with his father to whom Peter Donaldson, classical casting paying off in spades, brings unprecedented power."

Robert Cushman, The National Post


"The musical has a heart, and it belongs to a childless baker and his wife
(Bruce Dow and Mary Ellen Mahoney). They give the show its spine,
two people trying to figure out how to live happily ever after. It's not easy."

Michael Kuchwara, Associated Press


"Bruce Dow steals his scenes as the Baker."

Herbert M. Simpson, Rochester City News


"Bruce Dow, who is one of my favourite musical performers, was the Baker and he was in fine voice the night we saw him. Dow was wonderful in this tragicomic role and was a force every time he stepped on th stage."

John Gardiner, CKTimes


"But the evening's moral centre and most telling performance is delivered by Bruce Dow as the childless Baker whose quest for an offspring sets the whole story in motion. Dow's solo of recoginition, "No More," is delivered with a bravery and emotional honesty that is truly compelling."

Richard Ouzounian, Toronto Star


"Finally, some action! The current Stratford season received a much-needed jolting spark of creativity, vision and inspiration Friday night when Peter Hinton's production of Into the Woods opened to (for once) a justly deserved standing ovation.

What makes it all come together, however, is the glorious singing and stylized acting. Dow as the baker gives his character much more than the longing you hear so clearly and movingly in his voice."

Kamal Al-Solaylee, The Globe and Mail


"There's always something earnest and disarming about Bruce Dow
and he finds his ideal character match in the Baker."

Martin F. Kohn, Detroit Free Press


"Dow is superb"

John Coulbourn, Toronto Sun


"An unforgettable treat is catching the virtuoso performance of Bruce Dow, one of the Festival's most powerful vocalists, delivering a moving rendition of No More. Theatergoers will recall his energetic rendering of Sit Down, You're Rocking the Boat (coincidentally the title track from his just released CD) from last year's winning Guys and Dolls."

Geoff Dale, City Media


Guys and Dolls
Stratford Festival
Stratford, ON, 2005
"But probably my favourite performance of the evening is Bruce Dow as the lovably pudgy Nicely-Nicely Johnson. Dow radiates such joy onstage that you start to smile the instant you see him. and when he lets loose his industrial-strength pipes on "Sit Down, You're Rocking The Boat," he doesn't just stop the show, he brings it to an absolute halt. The audience didn't want that number to end and I don't blame them."

Richard Ouzounian, The Toronto Star


"…Guys & Dolls becomes a musical both about two sets of lovers and a host or richly sketched supporting characters such as Nicely-Nicely Johnson, an awesome Bruce Dow who stops the second act with the rousing revivalist number, Sit Down, You're Rocking the Boat."

Kamal Al-Soylaylee, The Globe and Mail


"The songs "Lucky Be A Lady" and "Sit Down, You're Rocking The Boat" (had) me walking on air while glued to my seat. The latter number is led by Bruce dow as Nicely-Nicely Johnson,whose girth is commodious and whose voice is practicallly a counter-tenor."

Robert Cushman, The National Post


"Bruce Dow's powerhouse tenor and Michael Lichtefeld's dazzling choreography electrify the climactic "Sit Down, You're Rockin' the Boat."

David Sobelsohn, culturevulture.net


"Sung by Bruce Dow as Nicely-Nicely Johnson and backed up by everyone in the cast, "Sit Down" rocks the house and stops the show."

Martin F. Kohn, Detroit Free Press


"But Guys & Dolls fairly drips with such gems, for instance gambler Nicely-Nicely Johson's (Bruce Dow) exuberant testimony of sin, "Sit Down, You're Rocking the Boat." Everything about this show rocks."

Lawrence B. Johnson, Detroit News


"The production's show stopping tune, "Sit Down, You're Rocking the Boat," puts the spotlight on Nicely-Nicely Johson, well played by Bruce Dow, whom fans of London's Grand Theatre will recall as the impressive title star in it's 2003 production of Schippel the Plumber and as the director of My Way: A Musical Tribute to Frank Sinatra, presented ealier this year."

Noel Gallagher, The London Free Press


" One character that can make or break this show is that of Nicely-Nicely Johnson. Stubby Kaye defined the part on Broadway and in the film, and I've seeen some weak attempts to fill those shoes. Demanding a stong, stage tenor with clear high notes, a slightly portly figure, and a laidback comedy style, it was wonderful to see that Bruce Dow had it all in this production. From the opening "Fugue for Tinhorns" to the show-stopping "Sit Down, You're Rocking the Boat," Dow played Nicely-Nicely with a mix of Stubby Kaye and Nathan Lane, and if you search the world for an actor to do this part you wouldn't find anyone better."

Harry Currie, The Kitchener/Waterloo Record


"It's Bruce Dow, however, as nicely Nicely Johnson who delivers the show-stopper with "Sit Down, You're Rockin' the Boat."

Donal O'Connor, The Beacon Herald


"Another standout is Bruce Dow as Nicely-Nicely Johnson who does full justice to his big number in the second act; "Sit Down, You're Rocking the Boat" which stopped the show."

Michael Englebert, AM 740


"Bruce Dow, with his spot-on delivery is super as Nicely-Nicely and he shines in his big number "Sit Down, You're Rocking the Boat."

Christopher Hoile, Stage-Door.org


"Bruce Dow leads the pack as Nicely-Nicely Johnson, whose "Sit Down, You're Rocking the Boat" brings down the house."

Paula Citron, Classical 96.3


"Kudos also to Bruce Dow as Nicely Nicely Johnson. His delivery of "Sit Down, You're Rocking the Boat" — rocks the house."

Beverly Friend, ChicagoCritic.com


"But it remained for Bruce Dow as the copacetic gambler Nicely-Nicely Johnson to seize the time(literally the eleven o'clock number) with his robust delivery of "Sit Down, You're Rocking the Boat"to cap off the evening. If you don't have a Nicely that can do this for you in the second act of Guys and Dolls, you might as well pack it in and Dow delivered in spades. Although I really don't believe in or am swayed by
the obligatory standing ovations that are driven by shills in so many of our theatres today, I noted that when the curtain call came at the performance I attended, the audience rose to their feet spontaneously only when Dow made his appearance–and rightly so."

Robin Breon, AisleSay.com

"… but the real scene-stealer is Bruce Dow as Nicely-Nicely Johnson, the most authentically Runyonesque figure on the Stratford stage and the only legitimate challenger to the late Stubby Kaye's pre-emptive claim on the same role. Dow lifts this production to its only genuine, incontestable level of greatness."

Keith Garebian, stageandpage.com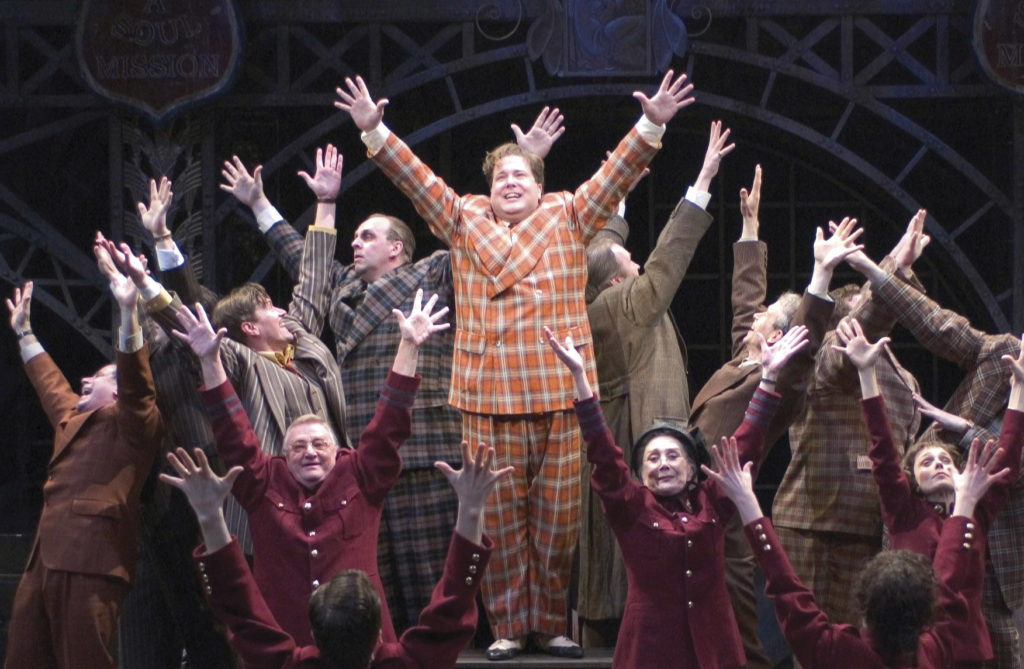 MY WAY, a tribute to Frank Sinatra
directed by Bruce Dow
The Grand Theatre
London, ON, 2004
"Four out of five stars!"
Noel Gallagher, London Free Press

JACOB TWO-TWO MEETS THE HOODED FANG
Lorraine Kimsa Theatre for Young People, Toronto
November 10, 2003 – January 4, 2004

"Bruce Dow makes a great feast of the nebbishy lawyer Louis Loser and the nefarious Mr. Fox."

Jon Kaplan, NOW

SWEENEY TODD
CanStage, Toronto
March 24 – April 19, 2003


Dora Mavor Moore Award Nomination
Best Featured Actor Play or Musical
Bruce Dow — Pirelli, Sweeney Todd, Canstage

"Other highlights include… and Bruce Dow as Pirelli, all providing delightful vocal twists that add texture to their roles."

David Bateman, XTRA Magazine

SCHIPPEL THE PLUMBER
Grand Theatre, London
January 7 – 26, 2003

"Bruce Dow set the pace and gave us a special evening with one of Canada's major tenors."

Ric Wellwood, CFPL Radio

"(the production) fares best when it leans on its musical elements and acting performances, particularly
Dow's star turn as the singing sewer worker.

Like Schipple, the actor boast a brilliant singing voice which teamed with his natural comic ability,
quickly wins over the audience."

Noel Gallagher, London Free Press

"Stratford musical star Bruce Dow is perfect in the title role. He's credible and very funny as the
working-class bumpkin… Of course, his voice is also impressive."

Bob Verdun, The Beacon-Herald

"Just listening to the magnificent tenor voice of Bruce Dow made the trip in the snowstorm worthwhile."

Yvonne Homes Mott, The Ingersoll Times

THE MUSIC MAN
Neil Simon Theatre, Broadway
Opened April, 2000

(Bruce Dow replaced Blake Hammond as "Jacey Squires" in 2001)


"Another Torontonian and Stratford veteran, Bruce Dow, is a recent addition to the cast,
having jumped ship from JANE EYRE shortly before it closed.

As a member of the bickering school board that becomes an inseparable barbershop quartet,
his tenor rings out clear and true, and his moonfaced comedy remains as endearing as ever."

Richard Ouzounian, Toronto Star


"It's a score to cherish, and it's performed well here, especially whenever Rebecca Luker (Marian) and the "Hawkeye-Four" (Bruce Dow, Jack Doyle, and Michael-Leon Wooley; as the sweetly harmonizing members of the School Board) wrap their vocal chords around it."

Martin Denton, Nytheatre.com


JANE EYRE
Brooks Atkinson Theatre, Broadway
November 10, 2000 – June 10, 2001


"Romance is back on the Broadway stage. Broadway has a lovely new musical…

And all of the other creatures of the novel, good and bad, are memorably captured, particularly… the Dickensian dimensions of Bruce Dow as the butler, Robert."

Clive Barnes, NY Post


"JANE EYRE delivers the biggest thrill of any Broadway musical this season. Intimate, agile and fast moving, JANE EYRE is a musical for grownups, with an absorbing story, a lyrical score and an exhilarating performance by it's star, Marla Schaffel. In an era of musicals that insist on connecting the dots, JANE EYRE shines with rare sensibility and does the unexpected: It trusts our intelligence.

Bruce Dow makes a shambolic butler, clapping a disheveled peruke on his head whenever he's required by the lordship."

Amy Gamerman, Wall Street Journal


"Bruce Dow, as Robert , has an impact which far exceeds the size of his role."

TalkingBroadway.com


Nominated for FIVE TONY AWARDS including:

BEST MUSICAL
BEST BOOK
BEST SCORE
BEST LIGHTING
BEST ACTRESS, Marla Schaffel


"One of the year's Top Ten"

New York Post, New York Daily News


PATIENCE
Avon Theatre
Directed by Brian Hill

"Bruce Dow will play Reginald Bunthorne, the posing poet who is the chief character in a satire
of Oscar Wilde and the esthetic movement he championed, but the singer is also cast as an
animating genius who invites the chorus on stage and delightedly shares their music and the
operetta's story with the audience.

Dow and Tova are the leaders in maintaining both layers simultaneously — from the soloists
to the chorus their music-making is always excellent."

Kate Taylor, Globe and Mail


MAN OF LA MANCHA
Fesitval Theatre
Directed by Susan H. Schulman
Stratford Fesival, 1998

"(His) soaring voice is the best on-stage and his comic skills are leavened by a gentle sincerity."

Mira Friedlander, Variety


"Bruce Dow is the finest Sancho I've encountered."

Joel Greenberg, Aisle Say


"…a lovely tenor… a sweetness that sits comfortably with his fierce loyalty…"

Janice Kennedy, Ottawa Citizen


"…no slouch in the singing or acting departments."

Donal O'Connor, The Beacon-Herald


"Dow carefully holds his sypathetic Sancho back from buffoonery."

Kate Taylor, Globe and Mail


"Dow's Sancho Panza is a cuddly teddy bear who sings like a tubby angel."

Ian Gillespie, London Free Press


"…a truly loveable, bumptious Squire… demonstrating a touching devotion to (Quixote)…
(Sancho's song) is one of the sentimental high points of the show."

Alex Suczek, Grosse Pointe News